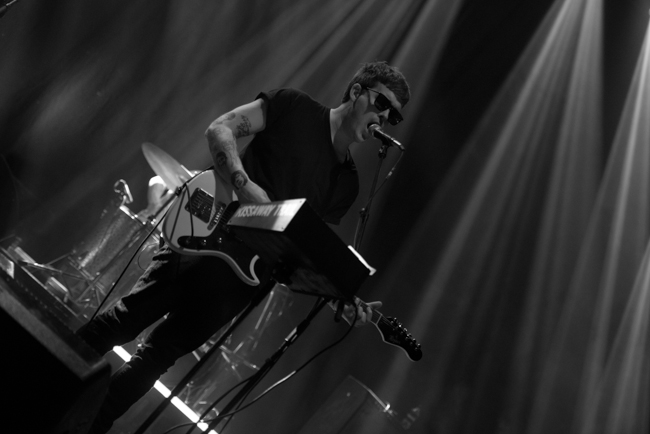 Kissaway Trail back on track
Daniel Heydorn
Kissaway Trail delivered their first show in almost three years at SPOT. In the middle of the concert, they ran into serious technical problems as a computer shut down for five minutes. However, the band weren't discouraged and played on, unaffected.
- It was really cool that people stayed even though the technology failed us in the middle of the show. I was actually pretty glad to see that, says Søren Corneliussen. The show was going quite good, and we played well together, Thomas Fagerlund explains.
According to schedule, Kissaway Trail's new album "Breach" should already have been released, but they opted to push the Danish release until August, which means the record will come out in Scandinavia, England and America simultaneously.
American tour this summer
Even though the SPOT show was their first in three years, the group will have plenty of opportunities to become a tightly playing unit once they head out on a tour of America this summer.
- We made the decision to not play the Danish festivals this summer. Next summer we'd love to, since the album will have been out for a while and people will have become familiar with the songs, says Thomas Fagerlund.
- We also have a couple of meetings with industry people from Germany here at SPOT. We've never played in Germany, but it's a market we'd love to tap into. Other than that, we're mostly aiming for America and England.
What will you be checking out at SPOT?
- We're going to see Christian Hjelm. He's brilliant, and we have always liked Figurines. They are a bit like us. And our drummer Hasse Mydstskov used to play in Figurines and is Christian Hjelm's drummer now. We'd like to see Folkeklubben as well.