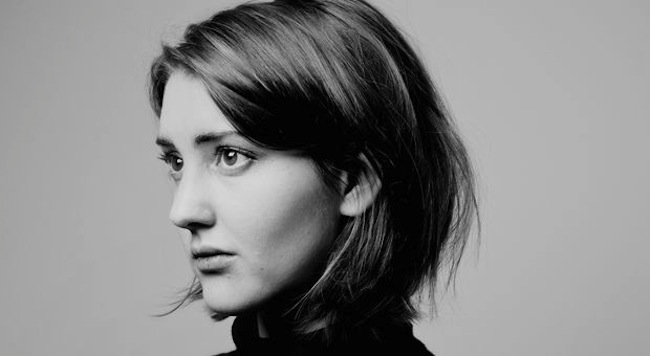 Broken Twin: beauty tinged with sadness
Vasilis Panagiotopoulos
Broken Twin is the stage moniker of Copenhagen songstress Majke Voss Romme. This 24-year-old Dane creates sonic sensations that move the listener by taking them through a maze of emotion and nostalgia. Her 2012 EP "Hold on to Nothing" and recent performances at international showcases such as Eurosonic Noorderslag yielded enthusiastic press reviews. Gearing up to her show at SPOT, we took the opportunity to ask her a few questions.
How did you come up with the name Broken Twin?
I actually don't remember how it came up, but what I like about it is that it is not a one-dimensional name – I find dualism very inspiring, so I think the name goes well with the music.
Describe your sound to someone who's never heard of you before?
I find this difficult, but minimalistic, piano-based alternative pop, maybe. I like to keep the sound a bit lo-fi and to have a lot of space around the words and melodies.
How did you start out making music?
I started out writing songs on the piano from a very young age, about 8 years old, but didn't share these songs with anyone until I was in my late teens. It was something very private for me. As I got older I started playing music with a good friend and got into recording and playing small live shows. It felt like a very natural development and in August last year I released my debut EP.
What inspires your music?
I find inspiration in so many things. It's basically a big melting pot of all the people I meet, the things I see, hear and experience through life. Something I'm very interested in is the paradox between the beauty of life and the dark side of things. There's a Japanese saying for this dual perception; Mono no aware, which means 'beauty tinged with sadness'.
What process do you go through in creating a track?
I often start with a small fragment I've recorded by the piano or with a guitar  – and then I build up the rest of the song from that basic raw idea or feeling. It's a very intuitional process. Mostly I start recording while still finishing up the song, so arranging and recording also get to influence the song.
Which artists influence your work?
I like a lot of different musicians, so what I listen to varies a lot from time to time. Lately I've been listening to Bill Callahan and Nick Drake, but again I feel like the inspiration for my own music comes from a wide spread of all I've heard. Sometimes I don't really listen to anything – I think silence is also important when making music. 
What should people expect from your SPOT performance?
At SPOT Festival I'll be playing with electric violinist Nils Gröndahl from Under Byen. It will just be the two of us on stage. What I like about this kind of sparse setup is that it can feel very intense, because it is impossible to hide. It's a vulnerable situation as you feel very exposed, but it can also feel very intimate. That's something I hope the audience will experience too.  
What are your future ambitions?
I hope to get my music out to as many people as possible. It's an ambition of mine to keep trying to make music that can not only be something important to me but also to other people. It would be very meaningful to me, if the music can grow bigger than me.
What are your upcoming plans?
I'm currently working on finishing up my debut album that will come out either this fall or next spring and then I'm going to play live shows again.
More info about Broken Twin can be found here.